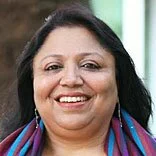 Mrs. Ashish Garg
Chairperson, Discover Tomorrow Campaign
Mrs. Ashish Garg is an Education Futurist and a former member of the United Nations – ICT Task Force. As an Education Futurist, she studies and identifies new and emerging trends in Education. She sits on the board of UNESCO's Open Knowledge Community and is a jury member of the Manthan Awards and North East Development Foundation.

She spearheaded the creation of India's First National Policy on ICT in Education. She also led the development of the 'Rajasthan Education Initiative' a multi stake holder education project in partnership with the Govt of Rajasthan, World Economic Forum and Confederation of Indian Industry. An expert on multi stake-holder partnerships in education she has several publications to her credit.

She is an invited speaker to national and international forums including the World Summit for Information Society (WSIS), the World Economic Forum (WEF), World Bank and UN meets in Asia, Africa and Europe. She also serves on the jury of several ICT and Education Awards.

She was invited to chair Bloomberg-UTV's inaugural ICT in Education Conference in 2010 and is the Chair and Keynote Speaker of the Economic Times Education Conference 'Future of Learning'.

Ashish is a gold medallist with Honours in English and a national scholarship award. She also holds a degree in Education and Human Resource Management.