Awards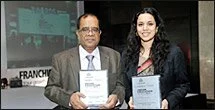 Franchise India presents the country's most prestigious awards in the Education sector. The awards aim to recognize Achievers, Innovators and Suppliers, who have contributed significantly towards the excellence and growth in the education sector.
Conference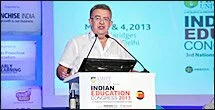 The two day conference will bring together industry veterans to interact and draw attention to best practices and promote innovation to capture consumer interest that will help grow the education...
Exhibition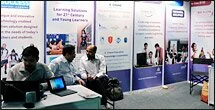 The expo will be a showcase & branding opportunity for your
product or services operating in the education services segment, connecting with suppliers and other allied industries.
Uniting Innovation and Sustainability

in Education enterprise.
Indian education industry is characterized by great business opportunities and low infrastructure to support the growing demand. It is the right time to deliberate on ways to link demand with opportunities and crave out newer business avenues as well as improvise the existing systems.
Indian Preschool market size as of 2014- USD 1.3 Billion
90% of the government's spend on public education flows into K-12 level education.
70% - education budget is focused on schooling for achieving higher Gross Enrollment Ratio (GER)
By 2020, India is Projected to have 25% of the Global Workforce.
The size of the K-12 industry is expected to increase from USD 37 Billion in 2013 to USD 51 Billion by 2015
IT and finance/management training will show the strongest growth, being 27% and 30% CAGR respectively.
Conference
Agenda
Debate.

Dialouge. Deliver
A platform for retail executives, suppliers and manufacturers from across the country to learn, network and grow their Education Business. The 3rd Annual Congress will bring together more than 400+ professionals from the Education fraternity to debate, discuss and shape the direction of the Industry.