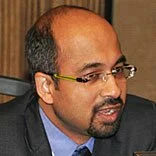 Mr.Prateek Mathur
Marketing Head, Microsoft
Mr. Prateek Mathur has over 12 years of experience in sales and marketing with exposure in establishing new businesses, business planning, strategy, product management, vendor management, solution sales, campaign planning management and execution.

He had a privilege of being part of the team which helped establish the foundation of Business Solution Division within Microsoft India. Currently, he is managing fastest growing business solution brand involving business planning, industry engagement, channel marketing, product launches, pricing and promotions, leading tele marketing engines, PR and existing customer life cycle management.

Besides, he has conducted lectures in IIM Lucknow as a guest faculty talking about fundamentals of ERP and BI.
12:30 - 13:00
Technology & Education
Mr. Pulakesh, Founder and Chief Executive Officer, UNIKUL Solutions Private Limited