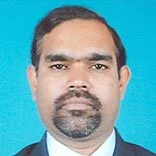 Dr. Amrendra Pani
Research Director, Association of Indian Universities
Dr. Amarendra Pani is the Deputy Director & Head, Research Division Association of Indian Universities, New Delhi. Dr. Amarendra Pani holds a Doctoral Degree in Education from Punjab University, Chandigarh. He is a specialist in the area of Research Methodology in Education.

He has worked in some of the apex level agencies in education like NCERT, AIU and in some of the premier and reputed academic institutions like Punjab University, Chandigarh, Indira Gnadhi National Open University (IGNOU), New Delhi.

As Deputy Director and Head of the Research & Policy Division of AIU, Dr Pani is charged with the responsibility of initiating, supervising and conducting Research Projects, Designing Student Centric Programmes, Coordination and Monitoring, Organizing Seminars, Workshops and Training Programmes, and bringing out publications on various emerging issues in higher Education.

There are Six edited books and a number of Research and other publications to his credit.
11:30 - 12:30
The Business of Change: A Higher Education Perspective
Session Moderator: Ms. Meeta W Sengupta, Founder, Centre For Education Strategy
Session Chair: Mr. R P Sisodia, IAS, Joint Secretary (Higher Education), Ministry of HRD, GOI
Mr. Vasu K Saksena, Chief Executive Officer, Merittrac Services Pvt. Ltd.
Mr. Satish Sharma, Director (Colleges), DAV College Management Committee
Mr. Pawan Agarwal , Adviser (Higher Education), Planning Commission, Government of India
Mr. Mahendra Bapna, Founder & CEO, University-21 (Higher Education)