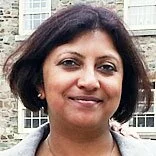 Ms. Maria Mathai
Advisor (India) to the President, University of Alberta
Recently awarded the Governor General of Canada's Gold Medallion by his Excellency David Johnston for her efforts in promoting Canadian international education, Maria, has over 20 years of experience in the Indian education sector and of that last 9 years has been in International education focused on India-Canada educational promotion. Prior to her current position as Director, M.M Advisory Services, Maria served as the Director of the Canadian Education Centre in India.

As Director of M.M Advisory Services, Maria is regularly invited as a speaker at several education Seminars/ roundtables in India and Canada. Most recently she conducted a session on Indian International Education at the BCCIE Summer Conference at Whistler, Canada and CBIE Annual Conference in Montreal, Canada. She actively contributes to India- Canada educational partnerships through building better awareness of India among Provinces in Canada. She is also an Advisor to the President, University of Alberta in Indian international education sector.

Maria has been counselling for Canada for the last 11 years and has provided numerous training and counselling sessions to schools, colleges and agencies in India. During her tenure as Director, Canadian Education Centre in India from 2005 to 2009, Maria produced the first detailed report on the Indian international education market with a focus on secondary schools titled "India Education Market Report - Current Status & Opportunities". The report was commissioned by the Ministry of Advanced Education and Labour Market Development, British Columbia.


Maria was instrumental in setting up education outsourcing model for Centennial College and is now an independent office of Centennial College in India. She was also the official Administrator for the Ontario - Maharashtra Goa scholarship program run by the Ministry of Training Colleges & Universities, Ontario till December 2009.

Maria started her career in the education sector as teacher at Naval Public School, New Delhi and obtained her Bachelor and Masters Degrees at University of Delhi.
15:30 - 16:30
Going Global Where Opportunities Are Greatest
Prof. Rajen Harshe, Professor - International Studies, South Asean University