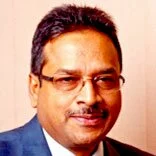 Dr. Darlie O Koshy
Director General & Chief Executive Officer, Institute Of Apparel Management
Dr. Darlie Oommen Koshy's pioneering contributions to Fashion & Design Education over the last quarter of a century has been well acknowledged by the Academia, textile-apparel industry and policy makers alike. The testimonial of having been named twice as one of the 50 Educational leaders shaping Indian Higher education by 'Education World', (years 2006 & 2008) endorses Dr. Darlie Koshy' s Leadership. A Doctorate from IIT Delhi in Management and an MBA from CUSAT, Dr. Darlie Koshy has been also trained at FIT New York in Fashion Management during 1987-88, as a founding faculty member of NIFT. He was also selected and trained by CBI, Rotterdam under the prestigious "Match maker" programme on Europe and also received UNDP Research grant for an International marketing research project on Indian Apparel in overseas markets.

As a Researcher and Academician Dr. Koshy's pioneering books on International Marketing of Apparel brought out by 'Global Press' and 'Prentice Hall of India' in 1994 and 1997 respectively are well regarded for thought leadership. "Indian Design Edge", a first time book on Indian Design authored by Dr. Darlie Koshy and published by M/s. Roli Books (2008) traces the evolution of Indian Design in the first decade of the new millennium and the 21st Century exploring its strong linkages to India's design heritage while strategizing the need for India to become a "Creative Manufacturer" to the world.

Dr. Koshy is a renowned international speaker on marketing, branding and allied areas and design management strategist for Fashion & Retail industries and the vocational skill education space and has served on the Boards of several leading organizations in Academia, Research & Industry over the years. Singapore Design Council, Sri Lanka Design Festival (SLDF), Sri Lanka Apparel Leadership Forum and WIPO, Genevahave been inviting Dr. Darlie Koshy as an expert to speak on Design Management & Innovation as tools for competitiveness, Strategic Brand Management, Intellectual Property & Design Laws etc.
17:00 - 18:00
VOCATIONAL EDUCATION & Skills Training – The Door to our Future
Mr. Siddarth Bharwani, Head-Brand & Marketing, Jetking Infotrain Limited
Mr. Sanjay Shivnani, Senior Vice President, Pearson Education
Prof. R G Chouksey, Dean Academics, National Institute of Technical Teachers' Training and Research, Bhopal (NITTTR)
Mr. Narendra Shyamsukha, Chairman, ICA
Mr. Jatinder Singh, Secretary, Innovation, CSR, Education & Skill Development Committee,PHD Chamber of Commerce and Industry