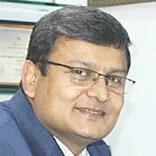 Mr. Narendra Kumar Shyamsukha
Founder Chairman, The Institute of Computer Accountants
Mr. Narendra Kumar Shyamsukha is the founder chairman of The Institute of Computer Accountants, famously known as ICA. He is a qualified CA and has more than a decade experience. Mr. Shyamsukha has years of experience in franchisee building. It was under his able leadership and expertise ICA has been able to create such robust structure country wide with 100+ ICA centres, national network of placement offices.

Under his able leadership, ICA has won various accolades such as appreciation from Mumbai University and Brands Academy which conferred the award of best vocational training company in India on ICA in 2013.

He has been member of Lions Clubs and Rotary Clubs. He has been instrumental in founding Terapanth Professional Forum (TPF), an organization of more than 6000 Jain professionals working towards betterment of the society and for higher education of financially challenged students. He is also founder member of JITO- Jain International Trade Organisation.
16:45 - 17:45
VOCATIONAL EDUCATION & Skills Training � The Door to our Future
Mr. Siddarth Bharwani, Head-Brand & Marketing, Jetking Infotrain Limited
Mr. Sanjay Shivnani, Senior Vice President, Pearson Education
Prof. R G Chouksey, Dean Academics, National Institute of Technical Teachers' Training and Research, Bhopal (NITTTR)
Dr. Darlie O Koshy, DG & Chief Executive Officer, IAM
Mr. Jatinder Singh, Secretary, Innovation, CSR, Education & Skill Development Committee,PHD Chamber of Commerce and Industry