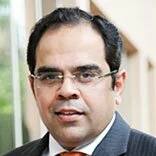 Mr. Amit Bhatia
Founder & CEO, ASPIRE Human Capital Management
Mr. Amit Bhatia, an award-winning social entrepreneur is Founder & Chairman of Aspire, an Employability Education firm in India. Amit has been recognized as "Education Czar" in 2008 by MINT (a WSJ publication); Finalist of John P. McNulty Prize in 2010 and Winner in 2012 (The Aspen Institute); featured as "NEXT" in Fast Company (2011); recognized as "Young Turk" by CNBC-TV18; and, featured by Business Today as "66 Reasons to Keep Your Faith in India" in 2013.

Amit has 22 years of management experience and till 2007 served as CEO of WNS Knowledge Services, successfully listing WNS on NYSE with a $1 billion IPO. Most notably, Amit conceived, founded and led the McKinsey Knowledge Centre in India.

Amit has a Bachelor's degree from Shri Ram College of Commerce; Master's Degree from Delhi School of Economics with a University Gold Medal; is a qualified Cost & Works Accountant; and is Fellow of The Aspen Institute.