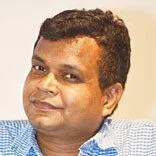 Dr. Shailendra Gupta
Principal, Calorx Institute of education
Dr. Shailendra Kumar Gupta has completed Ph.D in Education from Hemchandra Acharya North Gujarat University, Patan.

He has more than 20 years of experience of working in the field of Education and presently working with Calorx Institute of Education as Principal and Calorx Teachers' University as a Registrar.

Dr. Gupta has conducted workshops for more than 300 schools, Colleges and corporates spread over India. Some of his important achievements include Execution of Science Park at DPS Bopal, which received Super Ground Award by Royal Bank of Scotland.

Dr. Gupta has written more than 200 articles related to education and parenting in various magazines. He is member of many professional organizations like American Psychological Association, Indian Society for Training and Development, Montessori International etc.