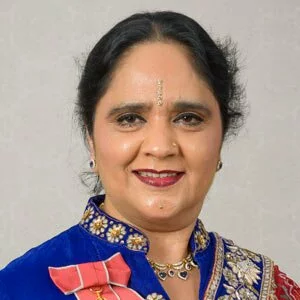 Dame Asha Khemka DBE DL
Principal & CEO, West Nottinghamshire College Group, United Kingdom
Born and raised in Sitamarhi, India, Dame Asha arrived in the UK at the age of 25 and spent the first 20 years of her life as a housewife and mother. When her children started boarding school, she embarked on her own education. Igniting a passion for education and its power for transforming lives which lasted a lifetime, in just 15 years she progressed from being a student to a Principal and CEO.
Dame Asha has been the Principal and CEO of West Nottinghamshire College Group since 2006. A multi-million pound business in its own right; it makes a difference to 26,000 young people and adults and has a turnover approaching £58m.
She has represented the education sector on many national boards and committees. She currently sits on the Cabinet Office's Education Honours Committee and is a Board Member on the Institute for Apprenticeships.
As the founding Chair of the former AoC India, Dame Asha spearheaded education developments between the UK and India. She has accompanied several Ministerial delegations to India joining the Prime Minister, Deputy Prime Minister and Education Ministers in recent missions. Her profile, reputation and achievements in furthering the UK and India bond was recognised in 2014 when she became the first recipient of the Dadabhai Naoroji Award for education jointly presented by the UK Deputy Prime Minister and Foreign Minister of India on behalf of the Commonwealth.
In 2009 she was awarded the OBE for services to education and in January 2014 became the first Indian born in living memory to be awarded the DBE. In the same year she was crowned 'Woman of the Year' by the British Prime Minister. In November 2016 Dame Asha was awarded for her 'Overall Contribution to Apprenticeships' at the Asian Apprenticeship Awards and in April 2017 named 'Businesswoman of the Year' at the annual Asian Business Awards Midlands.
Dame Asha is a Patron of the Asian Apprenticeship Awards and a Fellow of the Learning and Work Institute.
Her dedication to public life saw her commissioned as a Deputy Lieutenant for the County of Staffordshire. Within this role Dame Asha will take on responsibilities on behalf of Her Majesty's Lord-Lieutenant.
With a desire to 'give something back' in 2008 Dame Asha founded the Inspire and Achieve Foundation, a charitable trust whose main objective is to raise the aspirations of working class young people. Since its establishment, the Foundation has transformed hundreds of young lives.