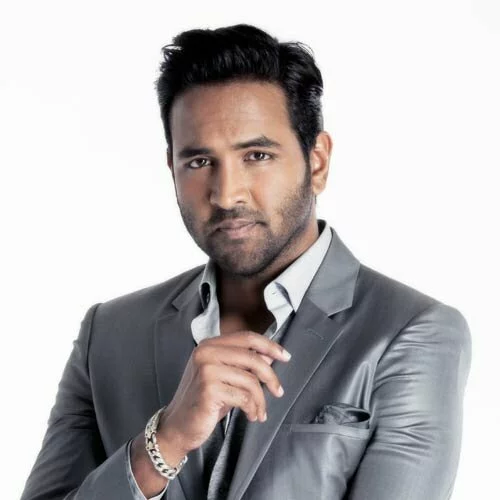 Manchu Vishnu
An Indian Film Actor, Producer, Educationist, Philanthropist & Entrepreneur
ACTOR, PRODUCER, EDUCATIONIST & AN ENTREPRENEUR Successfully alternating between entrepreneurship and entertainment, Vishnu Manchu is one of today's most sought after actors in Tollywood. He has built a strong career in films as well as a series of successful enterprises spanning educational institutions and film production.
Vishnu's acting career kick started at the age of four with Ragile Gundelu. Then he flew all the way to USA and got trained in Film Acting, Martial Arts and Direction. He resumed his acting in 2003 with 'Vishnu', redefining the action choreography in Telugu films. He was awarded Filmfare Best Debut Award for the same. The other films that brought good recognition to him include Dhee, Denikaina Ready, Doosukeltha, Rowdy and Anukshanam of Ram Gopal Varma.
Vishnu Manchu forayed into direction also with the 100th episode of the popular TV series, Happy Days, which later received the highest TRP ratings from among all the 700 episodes of the TV series. Vishnu Manchu's high point as a director came with the Lakshmi Talk Show- television's most watched show in Andhra Pradesh. The show was conceptualized, directed and produced by him under the 24 Frames Factory banner.
Movies are not the only game for Vishnu. While continuously working on his craft, he simultaneously oversees the Mohan Babu Corporation(MBC) and the three media firms owned by it: Sree Lakshmi Prasanna Pictures, ThinkSmart, and 24 Frames Factory. He also spearheads a chain of pre-schools and schools, SpringBoard in different states of India. Vishnu is also the CEO of the New York Academy and Sree Vidyanikethan Educational Trust found by his father, Dr. Mohan Babu.
On the other hand, Vishnu Manchu is widely acclaimed for his humanitarian work and his social endeavors. With a strong belief in giving back to society, he runs Vishnu Manchu Art Foundation, Army Green and Dr. Mohan Babu Rural Health Scheme with the motto of serving the people. He and his family were responsible to a large extent in bringing life back to normalcy in Rajoli, Mahbubnagar district, Andhra Pradesh. Rajoli, a weavers' village, was badly struck with cyclonic floods in 2009 that left about 40,000 people homeless. Vishnu Manchu, visited the village and took immense efforts in restoring the hopes of the affected people.
Vishnu Manchu did his engineering in Computer Science and Information Technology from the Sree Vidyanikethan Engineering College. In hope of fulfilling his father's dream of serving the country directly, Vishnu tried his hand at the Indian Civil Services Exam for IPS. Later, Vishnu soon realised that movies were his true calling.
Vishnu Manchu is charming young actor who has brought an element of freshness to the Tollywood Film Industry. His warm personality has an endearing effect on his fans and critics alike. A multi-faceted personality that he is, Vishnu enjoys the limelight at public events as much as he loves spending quality time with friends and family.
Minister's Award for Excellence in Public Administration in individual category,for year 2011-12.