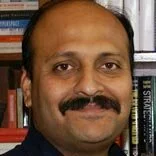 Dr. Amit Kapoor
Honorary Chairman, Institute for Competitiveness, India
Dr. Amit Kapoor is Honorary Chairman at Institute for Competitiveness, India; Prosperity Institute of India and Professor of Strategy at Management Development Institute. He sits on the board of Competitiveness initiatives in Mexico, Netherlands & France in addition to being advisor to Thinkers50 and participant (along with Roger Martin, Richard Florida, Pankaj Ghemawat, Don Tapscott etc.) with the Global Solutions Network of Martin Prosperity Institute & Rotman School of Management. He is an affiliate faculty for the Microeconomics of Competitiveness & Value Based Health Care Delivery courses of Institute of Strategy and Competitiveness, Harvard Business School.

He has been inducted into the Competitiveness Hall of Fame at Harvard Business School, which is administered by Institute for Strategy and Competitiveness at Harvard Business School. Amit is a Ph.D. in Industrial Economics and Business Strategy and has received the Ruth Greene Memorial Award winner for writing the best case of the year, by North American Case Research Association (NACRA). He has been invited by Kennedy School of Government & Harvard Law School, Harvard University; Pennsylvania State University to address the Vice Chancellors & Academic Leaders training programs; World Economic Forum at its India Economic Summit and Asia Summit to present his views on various issues and themes like strategy, outsourcing and economic development (Complete list of speaking engagements).

Dr. Amit is the author of India City Competitiveness Report, India State Competitiveness Report, India State Sustainability Report, Livability Report et al. He is also a columnist with Mint, Financial Express, Outlook Business & Governance Now in addition to penning down academic pieces (Complete set of articles & publications). Based on his work two awards have been constituted within the country titled "State Competitiveness Awards" by Mint & Hindustan Times wherein the Chief Ministers are awarded and "Institute for Competitiveness -Mint Strategy Awards" wherein the corporates are awarded for their strategic acumen. He chairs the jury and curates Porter Prize & Tapscott Award in addition to curating events like Competitiveness Forum, Thinkers 50 (India) etc. He tweets @arthsastra and maintains a professional profile at LinkedIn.