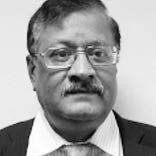 Mr. B Sridhar
National Director - SBU, Social Infrastructure Practice (Education, Healthcare & Senior Living), JLL
Mr. B. Sridhar, the former Chief Financial Officer of Global Indian International School is the National Director and Head of Social Infrastructure Practice of Jones Lang LaSalle (JLL).

Mr. Sridhar has tremendous experience on the funding side and has a keen passion on the social infrastructure fund that will help clients in the education, healthcare and senior living side.

A Chartered Accountant and Company Secretary by profession, Mr. Sridhar has over 23 years of experience, including 10 years in the social infra sector. Prior to Global Indian International Schools (GIIS), Sridhar has been in leadership positions in firms such as Pulsar Knowledge Center, Career Launcher, NIIT, SQL Star, Modi Xerox amongst others.