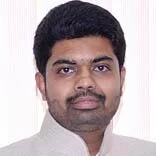 Mr. Chandrasekhar DP
COO, The JGI Group
Mr. Chandrashekar D P believes that education is the foundation of life. He has been associated with the Jain Group of Institutions (JGI) for over nine years. As the Chief of Operations, he has been actively involved with the group's initiatives across the country.

"As a school administrator he is an educational facilitator who promotes the success of all students by facilitating the development, articulation, implementation, and stewardship of a vision of learning that is shared and supported by the school community"

In his current role as the COO of JGI Schools, he is responsible for the establishment and management of schools across the country Viz., Aurangabad, Bilaspur, Hyderabad, Hubli, Indore, Kanpur, Nagpur, & Vizag. He has been instrumental in conceptualizing and establishing Jain Toddlers – a chain of international play schools with branches across 18 cities. As the COO of the Jain Group, he provides the vision and strategic directions to the schools. He is also responsible for long-term perspective planning, designing of learning processes, teacher development programme, integrating parents, children and community, and implementing the School's social responsibilities.

He is an Alumnus of Indian Institute of Management, Ahmedabad and is currently pursuing his Executive General Management Program from IIM, Lucknow along with a Masters in Public Administration. He is also a Post Graduate in Educational Leadership from CEMD, New Delhi. He also has a Diploma in Training & Development from ISTD, New Delhi. Apart from being the life member of National HRD Network he is also a part of various professional development forums like All India

Management Association (AIMA), National Institute of Personnel Management (NIPM), Quality Circle Forum of India (QCFI), Toastmasters International, USA. He has also served on the panel of HRD & Training of Confederation of Indian Industry (CII).

He has conducted several workshops and seminars for teachers and educators across various boards on topics ranging from leadership to effective resource maximization.