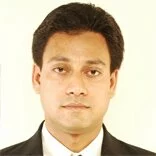 Mr. Enayet Kabir
Head & AVP-Education Technopak
Mr. Enayet is the Associate Vice-President of the Education division and has over 13 years of experience in strategy, operations, and start-up incubation in vocational training, executive education, higher education and Govt. services.

At Technopak, Enayet is focussed on schooling, higher education, vocational training, ancillary service providers and investment opportunities in education. His key skills include:
Entry strategy and defining feasibility of education initiatives
Assessing the market potential, understanding the consumer psyche, demand and supply realities
Growth strategy through organic as well as inorganic means
Marketing strategy for new and established education ventures
Business planning and financial modelling
Prior to Technopak, Enayet headed various employability initiatives and led a start-up business school as its Director. He was a part of the winning Elements Akademia team at the prestigious World Bank-IFC Development Marketplace. In his stint with NIIT, he led channel operations for two brands- NIIT Imperia and IFBI. In the Army Enayet was promoted to the rank of Major and his key responsibilities included leading a Company comprising 120 men and playing the critical role of Adjutant of an armoured regiment and an Assam Rifles battalion. He was also an instructor at the Desert Battle School, training officers on desert warfare and strategy.

Enayet holds an MBA from IIM Calcutta and Bachelor's degree in humanities from St. Xavier's College, Calcutta. He is currently a research fellow at MDI, Gurgaon.