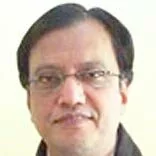 Dr. S. S. Mantha
Chairman, AICTE
Dr. S. S. Mantha is the Chairman of the All India Council for Technical Education (AICTE). He holds a Bachelor's degree in Mechanical Engineering from the MS University, Baroda, and a Master's degree in Mechanical Engineering from VJTI, Mumbai. He was the Professor and Head, Department of Mechanical Engineering, VJTI, for six years. Later, he was appointed the Pro Vice Chancellor of SNDT Women's University.

A PhD in Combustion Modeling from University of Mumbai, Dr. Mantha specialises in Robotics and has done several administrative assignments for the University of Mumbai. He has also been the Dean, Faculty of Technology. The Government of Maharashtra conferred upon him the Best Teacher Award of the State in 2002. He is also the recipient of INFOCOM CMAI National Telecom award for 2010.

Dr. Mantha has, to his credit, more than 180 publications in national and international journals. He has also co-authored a book titled "Object Oriented Programming in C++".