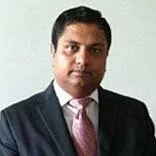 Mr. Neeraj Saxena
Business Head – Avanse Education Loan
Mr. Neeraj has over 12 years of experience in the Indian Retail and Financial Services industry.

He was the Head of Corporate Strategy at DHFL for over four years. Before his stint at DHFL, he worked in Retail Operations and Strategy in companies, like Trent (a Tata Retail Enterprise), Piramal retail and Ernst & Young.

He has been instrumental in leading various strategic initiatives include formation of Aadhar Housing Finance Pvt Ltd, active involvement in the acquisition of Deutsche Post Bank Home Finance Ltd, to name a few.

His experience has taken him through a diversified corporate adventure – Business Operations, Strategy & Corporate planning, Product Management and Corporate Quality.

A science graduate from Agra University, he holds a Post Graduate in Management from NIFT, Bangalore. He is a true family man, a doting husband and a loving father to a one year old son.