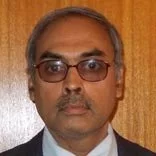 Dr. Pingali Venugopal
Former Dean, XLRI(Jamshedpur)
Dr. Pingali Venugopal has teaching, industry, consulting and research experience in the Marketing function in the Indian context for over 30 years.

Dr. Venugopal has done his Post Graduate Programme and Doctorate from the Indian Institute of Management, Ahmedabad. Currently he is the Associate Director of Center for Global Management and Responsible Leadership (CGMRL), a joint initiative of XLRI- Loyola University Chicago. He has been a Marketing faculty at XLRI, Jamshedpur, since 1994 and the Dean of the institute from 2004 to 2010. He has also been a visiting faculty to leading institutes in India including the Indian Institute of Management in Ahmedabad, Kolkata, Lucknow and Indore and international institutes including American University of Armenia and Educatis University Switzerland.

Prior to joining academics, Dr. Venugopal worked in the marketing department of Coromandel Fertilisers Ltd and Nagarjuna Fertilisers and Chemicals Ltd for 10 years. While at Coromandel, he was also involved in the launch of their cement brand.