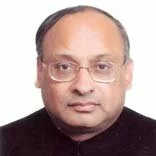 Mr. Suman Jyoti Khaitan
President, PHDCCI & Founder, Khaitan & Partners
Mr. Suman Jyoti Khaitan is a practicing advocate in India since 1985. In 2004, he founded the law firm, Suman Khaitan & Co. In January, 2007, he was appointed as a Notary. In 2008, he founded the law firm, Khaitan & Partners.

Mr. Khaitan has also appeared before parliamentary committees. Mr. Khaitan regularly appears as lawyer in International and Domestic Arbitrations and has been appointed as the Sole Arbitrator by ICC Geneva.

He is presently the President of PHDCCI, a Member of the Managing Committee of ASSOCHAM, the Chair of National Legal Affairs Council of ASSOCHAM, two leading Chambers of Commerce in India. He is also on the Managing Committee of ICC India, Indian Council of Arbitration and Society of Indian Law Firms.