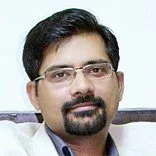 Mr. Vineet Sharma
Managing Director, Parragon Publishing
Mr. Vineet Sharma is currently Managing Director, Publisher and JV partner, Parragon Publishing India, which was set up in June 2006 to expand the Parragon Books global business in the Indian subcontinent and the Middle-East region.

He has spent close to two decades in the book and magazine publishing industry, having started his career with the Business India Group before moving to Dorling Kindersley. Among other facets of the publishing business he takes keen interest in the field of early learning, coming up with an amalgamation of the globally successful Gold Star series and other easy to read books specially developed for the Indian market.

With his comprehensive experience of the publishing licensing business and an eye for detail when it comes to the potential market, Mr Sharma has driven Parragon Publishing India to become the licensee of Disney, Mattel (Barbie, Hot Wheels, Fisher Price), Power Rangers, Discovery Kids and Cartoon Network, to name a few.

Mr Sharma's involvement with the licensing processis across products. He is the Chairman and the Founder Director of a British joint venture fashion eyewear accessories company, Aureole Inspecs.