Hotline Nos. Awards: +91 9313034080, Conference: +91 8595350505, Exhibition: +91 8595350525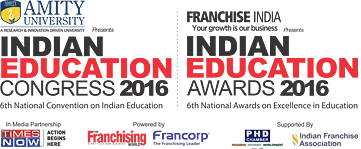 Indian Education Show 2016
May
26 - 27, 2016,
Vivanta by Taj
Surajkund, New Delhi
6th Annual
   National
   Convention
   on Education
400+ Entrepreneurs & Professionals
200+ Institutes & Education departments,
50+ Global Experts & Innovators,
1000+ Awards Nominees
One Mega Show
Building Future Schools Today
Time: 12:30 - 1:30
Changing Dynamics of K-12 over the next five years
Session Highlights:
Change the mindset, Change the Rules: Optimum utilisation of existing resources
K-12 Education Investment: Strategic planning for digital school
Is Pedagogical innovation effective?
Clarity around the affordances vs. adoption of digital learning
The move to online testing in school: What difference can it make?
Re-looking assessment tools: Why is it that stellar students sometimes fail in the workplace, while dropouts succeed?
The Transformative Classroom: Create maximum classroom function, Building student-centric classrooms & promoting success psychology in students
Changing the Culture: How to improve school culture in ways that better meet the academic, social, technical and needs of 21st century students.