Hotline Nos. Awards: +91 9313034080, Conference: +91 8595350505, Exhibition: +91 8595350525
Mr. Mohit Ralhan, Managing Partner & CIO, TIW Private Equity
Mohit Ralhan is the Managing Partner and Chief Investment Officer of TIW Private Equity, an India specific, SME focused, buyout PE fund, focusing on turnaround investments with dividend payouts as a significant driver of returns. Mohit has invested over USD 75 Mn in companies through his career. Mohit is ex Baring Private Equity (PE Fund), where he was part of the team, which gave 30%, compounded return over the period of 11 years across multiple funds. He has been in the initial team of a Greenfield private sector bank and has also advised one of the largest telecom operators in the country. He has served on boards of companies in the Interest-rate sensitive sectors, Technology, Education, Consumption and Digital businesses. He holds a MBA in Finance from the Faculty of Management Studies, and is an electronics engineer from NSIT.
2:35 PM - 3:35 PM The new age disruptors of education Investors
Mr. Ajay Batra, Director, Benett University
Mr. Shailesh Vickram Singh, Executive Director, Seedfund Ventures
Mr. Dilnawaz Khan, Manager- Business Development, Startup Oasis
Mr.SiddhantBhansali, Startup Mentor and Evangelist, 91springboard
Mr.Dheeraj Jain, Co-Founder & MD-Mappr& Managing Partner- Redcliffe Capital
Mr. Arjun Davar, Associate &Investor, GrowX Ventures
Mr. Sumit Dhanuka, Lead – Private Investments, Ncubate Capital
Mr. Gary Dalal, Chief Technology Officer, Apptology
Startups
Mr. Rahul Aggarwal, Founder, EnggHeads
Mr. Ashish Sirohi, Co-Founder, EduWizards
Mr. Paritosh Gunjan, Founder, Flygrades
Mr. Sumeet Agrawal, Founder, FutureVidya
Mr. Sangharmitra Pattanayak, Founder, Klever Mind Infotech Pvt. Ltd.
Mr. Vivek Goyal, Partner, My School Depot
Instant Information
Tweets by @FranchiseeIndia
Conference Delegation

Himanshu

08595350505

Mail at:

Ankur Sharma

09311789274

Mail at:

Sakshi

09310103354

Mail at:

Conference Registration

Award Nominations

Abhinav

09313034080

Mail at:

Awards Registration

PARTNERSHIP

Chirag

09312019978

Mail at:

Sponsorship

Sameer

08595350525

Mail at:

Exhibition

Madhusudan

08595350534

Mail at:

Vishnu:

09022352762

Mail at:

Available
On Stands

Subscribe
Now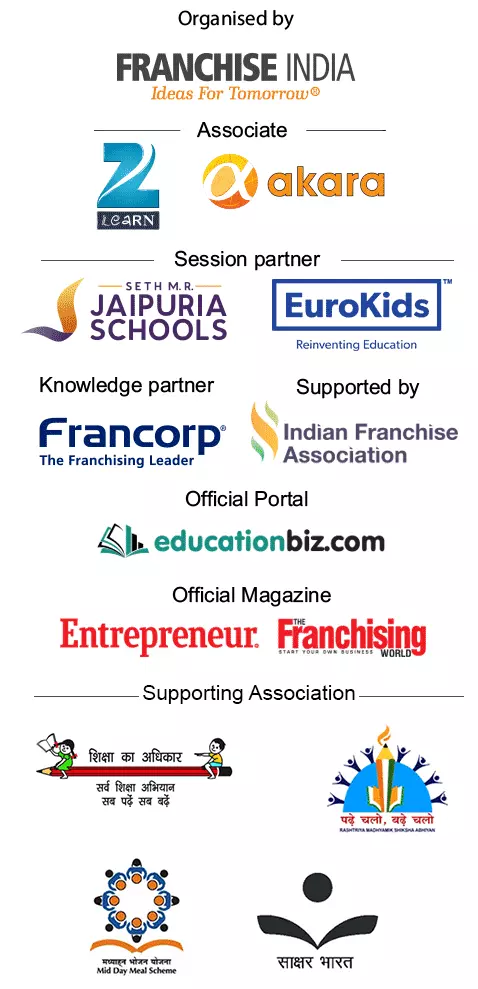 Copyright © 2016 Franchise India Holdings Ltd.
Powered by: