Hotline Nos. Awards: +91 9313034080, Conference: +91 8595350505, Exhibition: +91 8595350525
Testimonials
It is indeed a great idea and platform to bring together stakeholders from different backgrounds in the Education Sector in India. Such events definitely help to gain key insights about the current practices and future trends in Education Industry and give us an opportunity to develop new contacts which will lead into betterment for our respective businesses. Hence we would like to thank and congratulate 'Team Franchise India' for organizing this event successfully.

Amit Babar,
Bharat Deko, Cox and Kings Ltd.

"A very good initiative by Franchise India. The Conference provided exposure to very valid and relaistic areas of education, a great platform to hear the view-points of experts in the field."

Gitanjali Dutta,
Brainworks Learning Systems

"The event was well executed and each speaker presentation was really enriching. This event has definitely helped us in getting to know more about the education space in addition to the prospective clients looking for funding in either their new projects or expanding their current facilities. "

Saurabh Goel,
Zonal Cluster Head - North, SME, ICICI Bank

"Overall well organised conference which covered all aspects of the education sector laying emphasis on the opportunities and challenges. It was 2 full days of good information."

Nanette D'Sa,
CEO, Brainworks

"The Indian Education Congress was an outstanding platform for professionals from various disciplines. It provided an insight into new opportunities and challenges with multiple perspectives which was informative and useful."

Gitanjali Dutta,
Brainworks Learning Systems

"The conference was statistically and presentation-wise perfect. The speakers had a very good energy & provided apt information. The quality of speakers was also very good."

Rohit Bhardwaj
Chairman & MD, SSR College

"The Indian Education Congress 2011 brought into culmination the best practices of the Education Industry and the most inspiring ideas of individuals with a global perspective. The event was replete with opportunities to interact with eminent speakers and networking with them. It was a process of unlearning many things that were conventional and learning afresh many progressive strategies for a better future in education. Thanks to Franchise India for organising this enriching event!"

Hitesh Hindocha,
Strategic Growth Partner, Edify School, Edify Education Pvt Ltd.
Instant Information
Tweets by @FranchiseeIndia
Conference Delegation

Himanshu

08595350505

Mail at:

Ankur Sharma

09311789274

Mail at:

Sakshi

09310103354

Mail at:

Conference Registration

Award Nominations

Abhinav

09313034080

Mail at:

Awards Registration

Sponsorship

Sameer

08595350525

Mail at:

Exhibition

Vishnu

09022352762

Mail at:

PARTNERSHIP

Chirag

09312019978

Mail at:

Available
On Stands

Subscribe
Now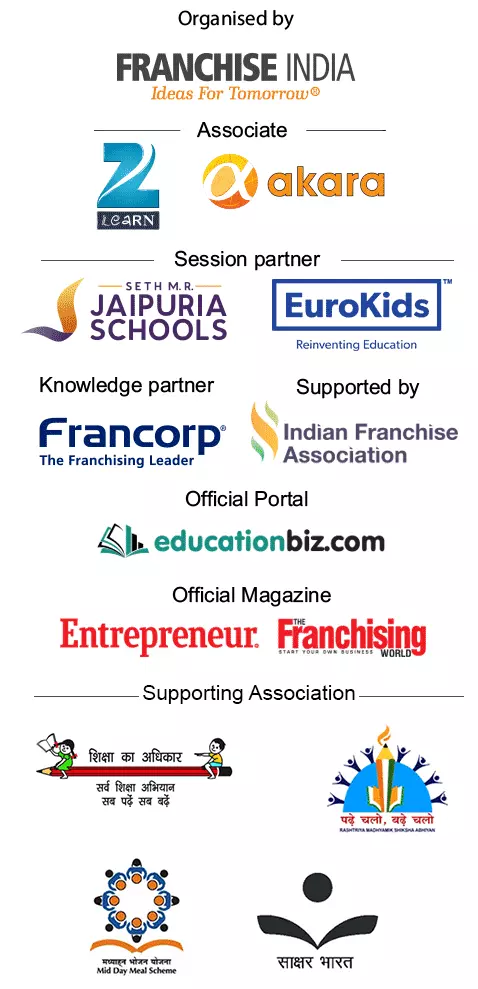 Copyright © 2016 Franchise India Holdings Ltd.
Powered by: